Top 5 Hotels in New York

Book a New York hotel today!
Top 5 Stores to New York

Top 5 To Do New York

Weather in New York

Latest New York News

Department Stores in NYC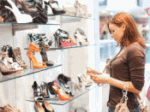 New York is undeniably one of the world's best cities for shopping at department stores. Prices tend to be considerably lower than UK for the same goods and the weak dollar certainly helps at the moment. All department stores worth one's salt offers complimentary
personal shopping services
which might be worth considering. Below we've divided New York's department stores into various categories for better overview.
Top 3 Famous Department Stores in New York
•
Bloomingdales
: Upscale chain of department stores with the same owners as Macy's.
•
Macys
: Classified as a mid-range to upscale chain of department stores.
•
Henri Bendel
: Founded in 1896, this department store provides an intimate boutique experience for chic, fashionable and youthful clothing.
3 High End Department Stores in Manhattan
•
Barneys
: Founded in 1923, this chain of luxury department stores focus mainly on clothing, footwear, bedding and jewelry.
•
Bergdorf Goodman
: High-end department store on 5th Avenue in Midtown Manhattan which been around since 1899.
•
Saks Fifth Avenue
: Upscale department store group with it's flagship store located on 5th Avenue in Midtown.
Top 3 Department stores for bargain hunters
During Christmas and thanksgiving, there are a few favourite places for shopping lovers. We especially recommend the following three:
•
Century 21
: Legendary retailer offering designer merchandise at discount prices year-round.
•
Macys
: Great for Christmas shopping but even better for sale shopping shortly after.
•
Bloomingdales
: One of the top places for bargain hunters but only during sale season.
Before going to department stores
Here are 8 simple rules successful shoppers keep in mind before visiting department stores in New York.
1. Set a budget before you go and stick to it.
2. Write a shopping list and bring it! Without a shopping list, you're buying items you never use.
3. Don't buy just because it's on sale.
4. Know your sizes. Dress size 8 in UK is equal to 4 in US while clothing size 10 in UK is equal to 8 in U.S. Women's shoe size 7 1/2 in U.S equals size 5 in UK. See
Wiki
for more info.
5. Check for
current deals
. Great saving can be made if you find the right offers.
6. Compare prices by looking at different brands for certain fashion items, including store brands.
7. Invest in the essentials: Rather spend a bit extra on essentials that last for many years.
8. Visit during slow times: Early mornings are one of my favorite times to go to department stores.