Top 5 Hotels in New York

Book a New York hotel today!
Top 5 Stores to New York

Top 5 To Do New York

Weather in New York

Latest New York News

Personal Shopping in New York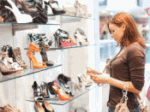 A personal shopping experience in Big Apple can be quite different from London. There are usually two types being offered. The first one in our guide is free but restricted to specific department stores. The alternative option might be more personal and fashion aware but have a price tag. Continue below to find out which one might be suitable for you and why personal shoppers in New York can give invaluable advice while lowering your stress levels.
Can personal shopping really be free of charge?
If you book in advance you're able to get free personal shopping assistant from Bloomingdales, Barney's or Macy's. They provide a free personal shopping assistant helping to select the best products for YOU. Here are four major department stores with great personal shopping services:
•
Macy's site
•
Bloomingdales site
•
Barney's site
•
Saks Fifth Avenue's site
Independent personal stylists in New York
If you're looking for maximum flexibility, leading fashion advice and have the budget to spend - hire an independent personal shopper instead of using complimentary service from department stores. The objective for freelance personal shoppers differs from free services by department stores. Instead of focusing on making you spend as much as possible the independent personal stylist's main objective is to make you look good and understand what suits your body type and complexion. Read Alexandra Greenwalt's interesting post about 'What in-store personal shoppers will never teach you'
here
.
Top 4 freelance fashion stylists in New York
•
Alexandra Suzanne Greenawalt
- Over a decade of experience as a personal fashion stylist in New York City. Read more at her site
www.alexandrastylist.com
.
•
Shopping Girlfriend NYC
- Professional wardrobe stylist and personal shopper, taking clients to retail showrooms selling to the major department stores. Official site
here
.
•
Ella Goldin
- Her company
Chic Insiration Inc
offers fashion style analysis, wardrobe renovation and various type of assisted shopping. Ella provides independent personal shopping services for both women and men.
•
Valerie Halfon
- If you're looking for affordable rates and personal service Valerie might be a good choice. She is both patient and has great taste. Please find more info
here
.
Personal shopping difference between London and New York
There are quite some distinction between the experiences in NYC compared to London and we listed the main characteristics below:
Most department stores in New York offer
complimentary personal shopping
without any requirements to purchase a certain amount of goods. In London on the other hand, quite a few either recommend independant personal stylists charging a fair amount for the service or require a minimum spending limit in order to be free of charge.
Further, the selection from department stores in New York is obviously more generous, allowing you to get a better shopping experience compared to London. After all New York got the world's largest department stores.
Finally, customer service are superior in U.S and you can expect top services from all of listed providers, regardless if you're looking for a wardrobe stylist or looking for some quirky and unusual items to suit your taste and style. If you consider becoming a personal stylist and can see this as your future job, NY.co.uk recommends you visit
sterlingstyleacademy.com
.
A few top end personal shopping alternatives to consider while in New York
Here are a few images of what a personal shopping consultants and fashion stylists can find.