Daniel NYC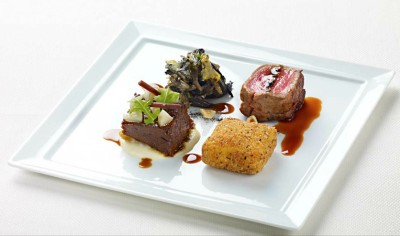 Elegant and contemporary, yet still warmly welcoming, this New York Times coveted four star rated restaurant offers a seasonal dinner menu in a sophisticated and attractive setting. Adjoining the restaurant is a positively enticing bar and lounge, offering à la carte dining. With private dining offered in either the Bellecour Room, which seats 90 guests, or the main dining room, which seats 140, Daniel's Private Dining Director will take care of every detail to make any event, whether business or pleasure, unforgettable. Jacket required.
Type of cuisine: Contemporary French restaurant.
Location: 60 East 65th Street, New York, NY10065
Phone number: 212.288.0033
Website: www.danielnyc.com/daniel.html
Opening times restaurant: Monday – Thursday 5.30 to 11pm, Friday – Saturday 5.30 to 11pm
Opening times bar & Lounge: Monday – Saturday 5.30 to 11.30pm
Note: Closed Sunday and major public holidays. It's also closed for lunch except for private dining events.
Pricing:
Pre-theatre fixed price: Monday – Thursday 5.30 – 6pm, $125 including wine.
-3 course prix fixe menu, $108, with wine pairing $168.
-6 course tasting menu $195, with wine pairing $300.
-8 course tasting menu $220, with wine pairing $350.
Why is it so tasty?
Highly talented and award winning team, sourcing the best ingredients.
What to order?
Zaatar Rice Flake-Crusted Maine Sea Scallops and Duo of Beef is very tasty.
But why not blow the budget, and go for the 6 course tasting menu!
How long do you have to wait to be seated & get food?
Without a reservation, made at least two weeks in advance, you stand very little chance of getting a table. Service is seamlessly efficient, polite, and unobtrusive.
Do they offer delivery?
No.
New York Shopping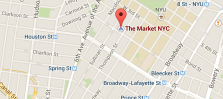 If you have tried all the major designer shops, outlets and department stores we have another recommendation from a young fashion designer. Next time you visit NYC, go to trendy Greenwich Village at 159 Bleecker Street. Here you find one …
More about New York shopping
New York Restaurants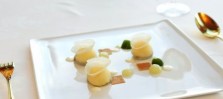 Photo credit: Lisa Davis Foddie website The Daily Meal has released their annual list of U.S best rated restaurants. Perhaps to little surprise, NY has more top rated dining options than the 5 second biggest cities in America combined. Are …
More about New York restaurants
New York Hotels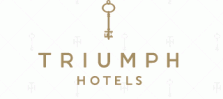 Six family owned hotels in New York city have come together to form a new brand, Triumph Hotels. No, the new hotel chain got nothing to do with Donald Trump and as you can see the spelling is quite different. …
More about New York hotels