PopBurgers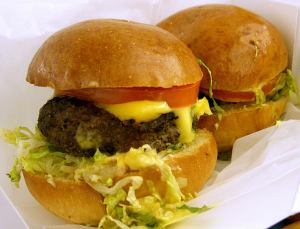 Beautifully presented, Popburgers are different, because they look so perfect. When you get your pop burgers, they looks exactly like its picture. They taste wonderful, too. It's thought of as one of the best gourmet burger joints in NYC.
Location? 14 East 58th Street, New York, NY 10022
Phone nr: (212) 991-6644
Opening times: Sun-Wed: 11am-2am Thu: 11am-4am Fri-Sat: 11am-5am Lounge Sun-Wed: 5pm-2am Thu: 5pm-4am Fri-Sat: 5pm-5am.
Price level (only burger): $9.25 (£5.95) for two small burgers.
Price level (burger+chips & drink): Popburgers $9.25(£5.95), fries $5.00 (£3.20), beer $8.00 (£5.15)
Why is it tasty?
The two dainty burgers and fries are delicious and picturesque.
What to order?
Pop Burgers and French fries with a "special pop sauce" is what NY.co.uk would recommend.
How long do you have to wait to be seated and to get food?
The service is fast and efficient.
Novelties?
The stylish burger lounge was created by famed restaurateur Roy Liebenthal. The interior is retro-art style.
Do they offer delivery?
Yes, Pop Burgers offers delivery within New York city.
Any alternative burger restaurants in NYC?
Whitmans burgers are priced about the same and are also worth a visit. If you want to experience a classic place, try Shake Shack burgers or The Burger Garage.
New York Shopping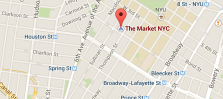 If you have tried all the major designer shops, outlets and department stores we have another recommendation from a young fashion designer. Next time you visit NYC, go to trendy Greenwich Village at 159 Bleecker Street. Here you find one …
More about New York shopping
New York Restaurants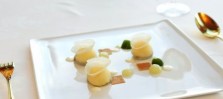 Photo credit: Lisa Davis Foddie website The Daily Meal has released their annual list of U.S best rated restaurants. Perhaps to little surprise, NY has more top rated dining options than the 5 second biggest cities in America combined. Are …
More about New York restaurants
New York Hotels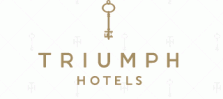 Six family owned hotels in New York city have come together to form a new brand, Triumph Hotels. No, the new hotel chain got nothing to do with Donald Trump and as you can see the spelling is quite different. …
More about New York hotels