Marea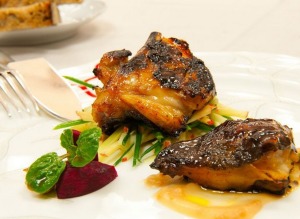 Centred around regional Italian cookery, and focussing particularly on fish and shellfish sourced from the waters of the Mediterranean and beyond, Marea has won numerous awards, and offers private dining rooms for private parties, as well as the main dining area.
Type of cuisine: Regional Italian restaurant, focussing on seafood.
Location: 240 Central Park South, New York, NY 10019.
Phone number: +1 212 582 5100.
Website: www.marea-nyc.com
Opening times for dinner:
Lunch: Monday – Friday 12 noon to 2.30pm (full lunch menu at bar).
Sunday Brunch: 11.30 – 2.30pm.
Dinner: Monday – Thursday 5.30 to 11pm.
Friday & Saturday: 5.00 to 11.30pm.
Sunday: 5.00 to 10.30pm.
Pricing:
Lunch: 5 course seafood tasting menu £48 ($75) or £80 ($125) including wine.
Dinner: 4 course fixed price menu at £62 ($97) recommended by Marea.
Why is it so tasty?
Fresh, authentic regional Italian cookery, served in a comfortable and relaxed atmosphere.
What to order?
Depending on the time of day, either of the two tasting menus are highly recommended. If you want to god for two courses, Zoe Beckham recommends Brodetto di Pesce (Adriatic seafood soup) and Seafood Risotto.
How long do you have to wait to be seated & get food?
Reservation is essential at Marea. Service reasonably efficient.
New York Shopping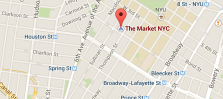 If you have tried all the major designer shops, outlets and department stores we have another recommendation from a young fashion designer. Next time you visit NYC, go to trendy Greenwich Village at 159 Bleecker Street. Here you find one …
More about New York shopping
New York Restaurants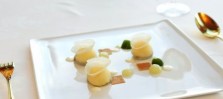 Photo credit: Lisa Davis Foddie website The Daily Meal has released their annual list of U.S best rated restaurants. Perhaps to little surprise, NY has more top rated dining options than the 5 second biggest cities in America combined. Are …
More about New York restaurants
New York Hotels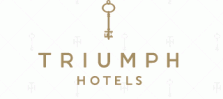 Six family owned hotels in New York city have come together to form a new brand, Triumph Hotels. No, the new hotel chain got nothing to do with Donald Trump and as you can see the spelling is quite different. …
More about New York hotels