Top 7 Hyatt in Manhattan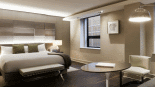 Hyatt have 12 hotels in greater New York and 7 in Manhattan. The average standard is slightly higher than Sheraton, and so is the average price per night. Hyatt group is an American chain, founded in 1957. They have hotels all over America, Europe and Asia. Two of the best regarded Hyatt hotels in NYC include Grand Hyatt New York and Hyatt Times Square New York. Below is a list of our recommended hotels:
Top Hyatt hotels in Manhattan
Hyatt Times Square New York
– Many earlier guests agree that this is the best hotel at Times Square. Great staff, amazing rooms, 24/7 fitness centre and fabolous location. What more can you ask for? Prices start from around £185.
Hyatt Place New York Midtown South
– Stay in the heart of New York City for below £100 per night while doing it in style. 24 hour fitness facilities and free wifi included.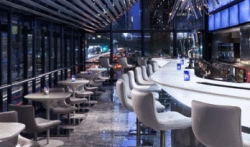 Grand Hyatt New York
– Often seen as the prime New York hotel in the group. Grand Hyatt have newly renovated rooms, friendly staff with a can-do attitude and great restaurants. Staying at Grand Hyatt New York means convenient access to Manhattan's sightseeing, restaurants and nightlife. One night here start at around £160.
Andaz Wall Street – a Hyatt Hotel
– Stay in Lower Manhattan's
financial district
, next to Wall Street. Prices start from only £160.
Andaz 5th Avenue – a Hyatt hotel
– A great hotel with luxurious feeling and outstanding service from only £170.
Hyatt Union Square New York
– The most exclusive Hyatt hotel in Manhattan. Prices start from around £260.
Hyatt 48 Lex
– 4.5 star hotel next to Chrysler building and minutes from Broadway. Hyatt 48 has a health club and great restaurant. Prices start from £170.
Hyatt hotels just outside Manhattan
The most popular accomoddation options just outside central New York include the following two:
Hyatt Place Flushing at LaGuardia Airport
– One of the upscale options near LaGuardia. Starting from around £190 per night.
Hyatt Regency on the Hudson
– Located in New Jersey. Stay here for around £130 per night.
Member Comments

Be the first to comment!

Leave a Reply

Your email address will not be published. Required fields are marked *
New York Shopping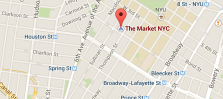 If you have tried all the major designer shops, outlets and department stores we have another recommendation from a young fashion designer. Next time you visit NYC, go to trendy Greenwich Village at 159 Bleecker Street. Here you find one …
More about New York shopping
New York Restaurants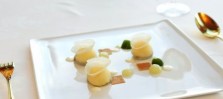 Photo credit: Lisa Davis Foddie website The Daily Meal has released their annual list of U.S best rated restaurants. Perhaps to little surprise, NY has more top rated dining options than the 5 second biggest cities in America combined. Are …
More about New York restaurants
New York Hotels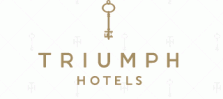 Six family owned hotels in New York city have come together to form a new brand, Triumph Hotels. No, the new hotel chain got nothing to do with Donald Trump and as you can see the spelling is quite different. …
More about New York hotels