Jean-Georges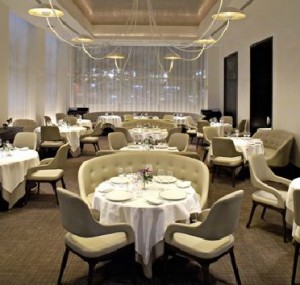 Businessman, restauranteur and world-famous chef Jean-Georges Vongerichten has collected awards like others collect stamps. Born in Alsace, and trained in the South of France, he also spent some time in Asia, developing a passion for flavours and textures, and developing his signature "vibrant cuisine". The elegant dining experience of Jean-Georges in New York, with a neutral colour palette, and views of Central Park, sets off the sophisticated menu to perfection.
Type of cuisine: Asian Fusion.
Location: 1 Central Park West, New York, NY 10023.
Phone number: +1 212 299 3900
Website: www.jean-georges.com
Opening times for lunch: Monday – Sunday 11.45 to 2.30pm.
Opening times for dinner: Monday – Thursday 5.30 to 11pm, Friday – Sunday 5.15 to 11pm.
Pricing:
Prix fixe (choice of 3 dishes): £69 ($US 108).
Dinner Tasting menu: £108 ($US 168).
Lunch (2 plates): £24.5 ($US 38) – each additional plate £12.2 ($US 19).
Lunch dessert tasting menu: £7.7 ($12).
Why is it so tasty?
Individual style and fresh ingredients.
What to order?
Japanese Snapper Sashimi, Duck with Cracked Almonds and mango lassi with carrot froth are recommended by Zoe Beckham.
How long do you have to wait to be seated & get food?
For prime dinner times, make a reservation at least three weeks in advance. Service a little aloof, but efficient.
New York Shopping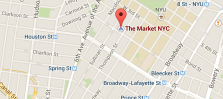 If you have tried all the major designer shops, outlets and department stores we have another recommendation from a young fashion designer. Next time you visit NYC, go to trendy Greenwich Village at 159 Bleecker Street. Here you find one …
More about New York shopping
New York Restaurants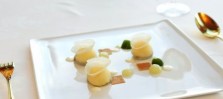 Photo credit: Lisa Davis Foddie website The Daily Meal has released their annual list of U.S best rated restaurants. Perhaps to little surprise, NY has more top rated dining options than the 5 second biggest cities in America combined. Are …
More about New York restaurants
New York Hotels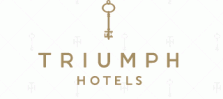 Six family owned hotels in New York city have come together to form a new brand, Triumph Hotels. No, the new hotel chain got nothing to do with Donald Trump and as you can see the spelling is quite different. …
More about New York hotels