East Village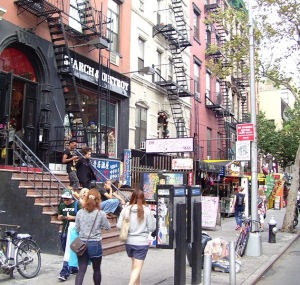 • Borders: Houston Street (South), 14th Street (North), Bowery / Third Avenue (West) and East River (East).
• Inhabitants: Around 50,000.
• Price level: Rather high.
• Top Attraction: St. Marks' Place, The Alamo, Ukrainian Museum and Tompkins Square Park.
• Shopping tips: Souvenirs, Ukrainian clothes and other items, vintage clothing, museum replica paintings and jewellery.
• Nearest subways: 6. Astor Place; F, V. Second Avenue; N, R. 8th Street/ NYU
What's East Village like?
Once considered a part of the lower East side, East Village started developing its identity and culture in the late 1960s. With the immigration of many artists, musicians, writers and students in this area, it gradually became a mecca for many artistic movements, including punk rock.
The area has an arty feel to it. Its ethnic diversity is apparent in its locals, while the apartments and buildings are being upgraded.
There are sprouting outdoor cafes all around and countless vendors on the streets with studded belts, t-shirts and wigs. With new school of artists making it their home, you will witness an incredible artistic vibe ranging from the eras of 70s and 80s to the present genre.
What to do in East Village?
East Village is high on creativity and displays an array of all forms of art. Take a walking tour of the neighbourhood organised by the Lower East Side History Project's volunteer guides and you will be able to observe the culture of the place more closely. The place has something for people of all tastes. Fun, adventurous, tradition and vintage, you will find all kinds of fashion clothing, accessories, tattoos and souvenirs. St. Marks Church, built in 1799, is a popular place to visit. For lovers of art, the East 4th Street Cultural District boasts of as many as 12 theatres and 8 dance studios. You can see shows, events, Shakespeare at the Public Theatre and hear some great jazz and world music at the Jose's pub.
Museums and Galleries
The Ukrainian Museum is the largest museum in America devoted to the cultural heritage that Ukrainians brought to the area. It has large collections of fine art, folk art, clothing, metal works along with Ukrainian Easter Eggs.
The other one is the Merchant's House Museum, which was built in 1832. With original furnishings, architecture and family belongings on display, it gives a peek into the domestic life 30 years before the Civil War.
Who lives in this area?
East Village has been home to artists, writers and musicians for over decades. It is now a centre of counterculture in New York with its vibrant and diverse culture.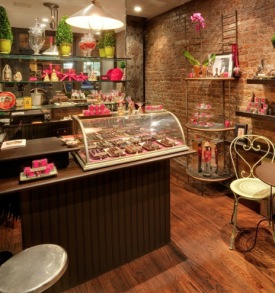 Recommended restaurants in East Village
Just walk along the blocks and you will find something exclusive in every lane! You can binge on delicacies at Old Italian Trattorias and Kosher Dells or opt for a fine dining experience at a 4-star hotel. At Veselka, you can taste authentic Ukrainian food while Italian food lovers can head to Lil' Frankies. Momofoku remains a popular noodle shop, while the Sunday night pig roasts at Back Forty is legendary. Zabb Elee offers real Isaan Thai food and the cocktail menu at Vandaag surprises the taste buds, only too pleasantly. For those with a sweet tooth, dig into cookies from Green Bakery, perfect cupcakes from Butter Lane or handmade chocolate from Bond Street Chocolate.
Bars and Nightclubs
With the highest number of bars in the city, East Village gives you plenty of options to let your hair down. Croxley's Ale house is a popular sports bar that offers lunch special and world famous wings on its menu; while Billy Hurricane's will spin you around with its stupendous cocktail menu. For live music and authentic wines and cocktails, head to 10 Degrees that also has a neat bar menu. The East Village Dive bar will send you home stumbling and Hi Fi gives you a high with its drinks along with fun at the pool table and pinball machine.
Area's Hidden Secrets
Secret bars, tucked away in corners, provide a refuge for visitors from the hustling of city life. The effort going into finding these, entering through secret entrances and relishing old-school drinks has an aura of its own.
What to avoid in East Village?
Avoid the New York University (NYU) crowd to keep away from long lines and a lot of student noise.
What's nearby? Try Upper East Side and Nolita (North of Little Italy) while you're in Upper East Side, or take the subway to Brooklyn if you're adventurous. Here is a list of all NY neighbourhoods.
New York Shopping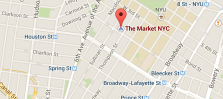 If you have tried all the major designer shops, outlets and department stores we have another recommendation from a young fashion designer. Next time you visit NYC, go to trendy Greenwich Village at 159 Bleecker Street. Here you find one …
More about New York shopping
New York Restaurants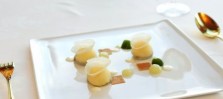 Photo credit: Lisa Davis Foddie website The Daily Meal has released their annual list of U.S best rated restaurants. Perhaps to little surprise, NY has more top rated dining options than the 5 second biggest cities in America combined. Are …
More about New York restaurants
New York Hotels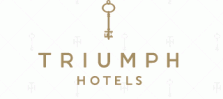 Six family owned hotels in New York city have come together to form a new brand, Triumph Hotels. No, the new hotel chain got nothing to do with Donald Trump and as you can see the spelling is quite different. …
More about New York hotels