Memphis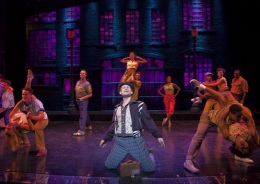 Rating:





5 out of 5 stars (Read why below)
Synopsis
Featuring a Tony award-winning book authored by Joe DiPietro, Memphis is an absolute winner in theatrical productions and deserves a 5/5 rating. The drama-musical is full of excitement, thrill and thought-provoking themes, which makes it one of the best productions of Broadway. Set in Tennessee city in the 1950s, Memphis is chiefly based in the city's sordid nightclubs, rock and roll bars, recording studios and radio stations.
When was Memphis launched at Broadway?
The late theatre producer George W. George came up with the idea of Memphis in 2003, after which the first production took place at the North Shore Music Theatre in Massachusetts. La Jolla Playhouse then staged the musical in San Diego in 2008 followed by 5th Avenue Theatre's staging in Seattle in 2009.
The first Broadway production, however, began in September 2009 at Shubert Theatre, which included several cast members from the pre-Broadway productions as well. This Broadway production won the Golden Icon Awards in the category of Best Musical in the Live Theatre. It also won the 2010 Tony Award for Best Musical. In 2011, the Broadway production filmed the regular stage performance to screen on high definition exhibition in digital cinemas, which turned out to be a great hit.
Popular characters featured in Memphis
The protagonist, DJ Huey Calhoun, is a local young chap who is very passionate about R&B music and a promising new black singer in town, Felicia Farrell. The beginning on Act I shows how Calhoun is trying to earn some decent pocket money all the while attempting to get popular in the music scene. Working at the local department store, he is about to be fired by the employer when he makes a deal with him and assures that he will sell 5 records by playing them over the store's speakers. He then plays a hit song "Scratch my itch," and sells 29 records in just a few minutes. The employer heats up in response to the type of music Calhoun plays, therefore fires him anyway. Disappointed, Huey goes back to the Delray's club in Beale Street and begins flirting with Farrell. He assures her that he will get her on the radio, and proceeds to apply for DJ jobs all over the city. Despite many challenges including confrontations with family members, Calhoun and Farrell embark on an exciting yet risky affair. As their careers start to advance, their relationship is jeopardised by external pressures and personal aspirations.
Chad Kimball originally played the role of Huey on Broadway, however, he was soon replaced by Adam Pasca. Pascal is most popular for his role as Roger Davis in Jonathan Larson's "Rent" musical in 1996. The second protagonist's role (Felicia's) has been played by Tony Nominee and Drama Desk Award Winner, Montego Glover. Glover's exceptional performance in Memphis earned her IRNE award nomination Drama League Award nomination.
Music in Memphis the musical
The original music and lyrics of the show have been composed and written by Bon Jovi's founding member, David Bryan. Some of the smash hit songs from the production include "the music of my soul," "everybody wants to be black on a Saturday night," "change don't come easy" and "tear down the house."
Review of Memphis
As the Associated Press has precisely stated, "The very essence of what a Broadway musical should be," Memphis evokes memories of smooth harmonies and powerful funky guitar riffs of the 1950s. The drama-musical is full of excitement, thrill and thought-provoking themes, which makes it one of the best musical productions of Broadway.
Cheap tickets for the show
To get cheap musical tickets for Memphis, it is best to book in advance or order online. Typically, the weekend tickets are relatively more expensive than weekday tickets. While booking, you may also be able to get other discounts depending on the dates, season and seats so make sure you do plenty of research first.
Other musicals worth going to while in New York
There are plenty of other spectacular musicals and shows to see on Broadway. Read our reviews of Jersey Boys, The Book of Mormon, Mary Poppins and Ghost to name a few.
New York Shopping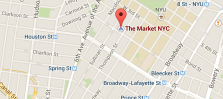 If you have tried all the major designer shops, outlets and department stores we have another recommendation from a young fashion designer. Next time you visit NYC, go to trendy Greenwich Village at 159 Bleecker Street. Here you find one …
More about New York shopping
New York Restaurants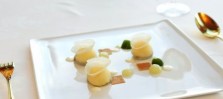 Photo credit: Lisa Davis Foddie website The Daily Meal has released their annual list of U.S best rated restaurants. Perhaps to little surprise, NY has more top rated dining options than the 5 second biggest cities in America combined. Are …
More about New York restaurants
New York Hotels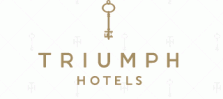 Six family owned hotels in New York city have come together to form a new brand, Triumph Hotels. No, the new hotel chain got nothing to do with Donald Trump and as you can see the spelling is quite different. …
More about New York hotels