Empire State Building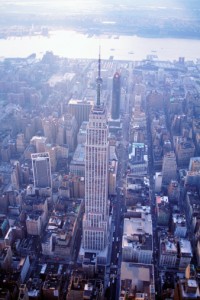 Empire State Building is one of the most famous building in New York and the 2nd tallest (after the One World Trade Center building).
Check availabilty and buy tickets online

Find out more details and facts about this building below:
Address: Empire State Building, 350 5th Avenue, New York, NY 10118.
Architect: Shreve, Lamb, and Harmon.
Awards: 2010 National Trust for Historic Preservation, 2011 Gold Leadership in Energy and Environmental Design.
Best views of: An impressive 80 mile view of the city and some parts of New Jersey, Pennsylvania, Connecticut and Massachusetts can be seen on a clear day.
Built: 1921-1931.
Dining options: Chipotle, Heartland Brewery, The Empire Room, Rosa's Pizza and Starbucks can be found in the building's main lobby
Elevator speed: 426 meters per minute or 15mph/25.56kmh.
Floors: 102.
Height: 443m/1453ft.
Opening times: 8AM to 2AM, last elevator is 1.15AM.
Price: $27/£16 for adults, $19/£12 for children
Express tickets: Roughly $49/£30 to skip the lines
Tour guide: A multi-media audio and visual tour is available for $5/£4
Visitors per year: A New York Times article from December 2011 states that the building entertains four million visitors every year.
When to go: Off-peak times vary, but the building is typically less busy at 8AM or 3PM. The beautiful views can be enjoyed at any time of the year, and the New York skyline at night is as awe-inspiring as it is during the day.
What is the purpose of this building?
As well as being one of the most popular tourist hotspots in New York, the Empire State Building is also used for commercial and office space. Over 1,000 businesses are located in the premises, and it even has its very own zip code.
Interesting facts about this building
Plans for a zeppelin docking level on the 103 floor were considered, but the fast winds and updraft made it an unfeasible prospect, and no airship ever docked there.
In an average year, the lightning rod on top of the building is struck by lightning 23 times. But all tourists are absolutely safe on the observation deck!
Current and previous owners
The Empire State Building has had many owners over the years. The land it now sits on had humble beginnings as a farm in 1799, before being purchased by the Waldorf-Astor family years later. It is currently owned and managed by W&H Properties.
Dress code and what to bring
As there can be lengthy queues, visitors are encouraged to dress comfortably as there is no formal dress code in place for visiting the building. Glass items and flasks or cans are prohibited, but food and drink can be brought along. Coin-operated binoculars are on the observation deck, but bring a camera to capture the views (although tripods are also prohibited).
Longest Queues
There can be long queues for the ticket line, so visitors are encouraged to buy tickets online and print them off. However, even with a ticket, there are often long queues for the elevators. The queues are typically longest in the Summer and during peak holiday seasons. Weekends are also particularly busy. The quietest times are usually around 8AM and 3PM.
How to get express tickets?
Express tickets can be purchased online. Express ticket holders can skip the very long lines to get to the observation deck faster. We strongly recommend this if you definitely want to see Empire State building, without the risk of wasting hours in line.
›› Read about the other tall buildings in New York.
New York Shopping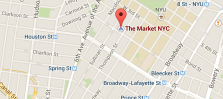 If you have tried all the major designer shops, outlets and department stores we have another recommendation from a young fashion designer. Next time you visit NYC, go to trendy Greenwich Village at 159 Bleecker Street. Here you find one …
More about New York shopping
New York Restaurants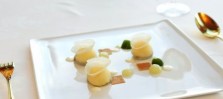 Photo credit: Lisa Davis Foddie website The Daily Meal has released their annual list of U.S best rated restaurants. Perhaps to little surprise, NY has more top rated dining options than the 5 second biggest cities in America combined. Are …
More about New York restaurants
New York Hotels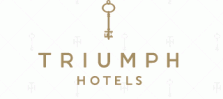 Six family owned hotels in New York city have come together to form a new brand, Triumph Hotels. No, the new hotel chain got nothing to do with Donald Trump and as you can see the spelling is quite different. …
More about New York hotels