SoHo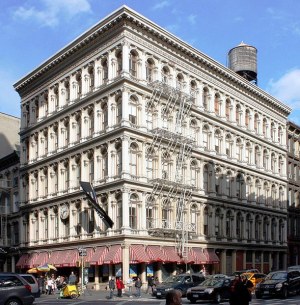 • Borders: Houston Street (north), Centre Street (east), Canal Street (south) and West Broadway (west).
• Inhabitants: Around 11,000.
• Price level: One of the highest in NYC.
• Top Attraction: Great bars and restaurants, SoHo-Cast Iron Historic District, art galleries and up-market retail shops.
• Shopping tips: Original art, designer clothes and accessories and antiques.
• Famous for: Being Little Italy in NY.
• Nearest subway: Canal Street.
SoHo has transformed itself into one of the most fashionable and popular districts in New York City. Thirty years ago, SoHo was renowned for being the home of many artists who took advantage of the low rents and the large number of abandoned historic buildings. Although the area has been gentrified slightly in recent years, there is still a noticeable bohemian atmosphere and its cobblestone streets are lined with independent art galleries, trendy boutiques and international chain stores.
Few neighbourhoods in New York City can match SoHo's unique and avant-garde ambiance. Characterised by its nineteenth century cast-iron architecture and quaint, almost European cobblestone streets, SoHo has a look and feel unlike any other neighbourhood in the Big Apple.
What to do in SoHo
Fashion stores and art galleries are like SoHo's arteries and provide the energy behind the neighbourhood's distinctive atmosphere. Two recommendations are Agora Gallery and Soho Photo. While the first one is recognized for contemporary fine art, the second one is obviously for those into photos, modern NYC photography that is. If you have additional time to spend visit Opera Gallery NY for fine art.
There is a real respect for design rather than labels in SoHo and fashionistas from all over the world come to SoHo to buy clothes from both mainstream stores like Calvin Klein, Chanel and Prada and independent boutiques. Be aware that the majority of stores don't open until 11am, so the best time to visit is in the afternoon.
NY's SoHo is very proud of its artistic heritage and boasts some of the most stylish independent art galleries in the city. In the summer, artists line the sidewalks on Prince and Spring Street selling their wares and there are a number of interesting and entertaining museums on offer.
Any films performed in SoHo?
Considering the neighbourhood's distinct architecture, it is no surprise that it has featured in a number of Hollywood blockbusters. From Ghost to Ghostbusters, Mean Streets to Men In Black, SoHo has graced the big-screen countless of times. Sex and the City fans will recognise Charlotte's art gallery on Prince street, while the famous Raoul's Restaurant was used in Sex and the City: The Movie.
Who lives in SoHo?
Once home to artists and squatters, this reputable area now attracts highly educated professionals who can afford the rising prices in SoHo's trendy loft habitats. There are still a few artists who have supplanted the areas increasingly gentrified demographic, which ensures that this NYC district still retains its bohemian feel.
Good restaurants worth visiting
From simple comfort food to gastronomical showpieces, restaurants in SoHo are known for their quality and can get extremely busy over the weekends. Reservations are recommended weeks (if not months) in advance. Blue Ribbon Sushi boasts some of the best raw fish in the city while the delectable and extremely expensive Osteria Morini is the best place for Italian cuisine while celebrity-spotting. The world-famous Katz's Deli on East Houston Street provides affordable food in familiar settings, since it has been used in films such as Across the Universe, Enchanted and When Harry Met Sally.
Bars and nightclubs worth visiting?
SoHo is relatively quiet at night once the out-of-towners and tourists end their shopping sprees. However, there are a few places that keep the party going all night. From secret, local-bars to exclusive nightclubs filled with downtown's "cool" kids, although not as happening as other neighbourhoods, SoHo still boasts some great bars and nightclubs to comply with your partying needs. Located on Spring Street, the Sway Lounge is where the cool people go before they head to the big nightclubs. Entrance is free, but be prepared to wait outside a while if you're not deemed "cool" enough. During warm weather, there really is no other option than A60 and the tables on its rooftop bar are some of the most sought-after drinking spots in the city.
Be prepared for..
SoHo is a very popular tourist attraction, and while it can be absolutely deserted at night, during the day the cobblestone streets are filled with throngs of starry eyed tourists, snapping away with the cameras and annoying the locals.
What to avoid?
Although the NYC police have cracked down on people selling counterfeit goods on the street, they are still a minor nuisance and are best avoided. Just like any other neighbourhood in New York City, SoHo does have its fair share of pickpockets, particularly during weekend afternoons when the streets are packed with tourists.
Any hidden secrets?
Less than fifteen years ago, SoHo in NYC was a squalid, industrial area inhabited by the homeless, squatters and artists. Due to its rapid regeneration, new shops, restaurants and bars are frequently popping up. Crosby Bar & Tapas is a small, almost impossible to find gem hidden away in one of SoHo's most secluded streets. A great place for unpretentious nibbles and a quiet, intimate drink.
What's nearby? Visit Chinatown, Little Italy and Nolita (North of Little Italy) while you're in Soho, since it's only a short walk away.
Member Comments

Be the first to comment!

Leave a Reply

Your email address will not be published. Required fields are marked *
New York Shopping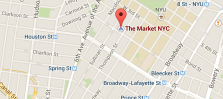 If you have tried all the major designer shops, outlets and department stores we have another recommendation from a young fashion designer. Next time you visit NYC, go to trendy Greenwich Village at 159 Bleecker Street. Here you find one …
More about New York shopping
New York Restaurants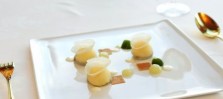 Photo credit: Lisa Davis Foddie website The Daily Meal has released their annual list of U.S best rated restaurants. Perhaps to little surprise, NY has more top rated dining options than the 5 second biggest cities in America combined. Are …
More about New York restaurants
New York Hotels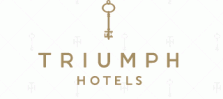 Six family owned hotels in New York city have come together to form a new brand, Triumph Hotels. No, the new hotel chain got nothing to do with Donald Trump and as you can see the spelling is quite different. …
More about New York hotels