Chinatown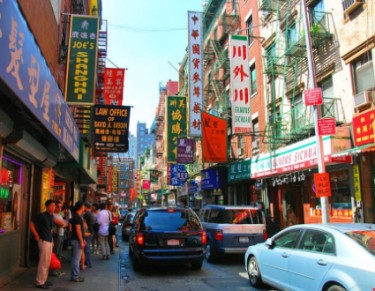 • Borders: Grand street (north), Allen Street (east), Worth Street (south) and Lafayette Street (West).
• Inhabitants: Around 85,000.
• Price level: Low to be NYC.
• Top Attractions: Shopping; Food
• Shopping tips: Cheap watches, sunglasses, handbags and Chinese & Japanese tea.
• Famous for: Counterfeit goods and having the largest population of Chinese people in the Western world.
• Nearest subway: Canal Street and Grand Street.
Perhaps one of the most intensely atmospheric districts in a city full of them, Chinatown bustles with street vendors, tourists, and locals alike, conversing in the various Chinese dialects and, occasionally, English. It is located in Lower Manhattan and, as the name suggests, contains a large Chinese population. In recent years, the area has seen a lot of immigration from other Asian countries and now boasts a large number of people of Vietnamese, Thai, and Cambodian descent as well. The trend recently has been towards an aging population but the continuous influx of younger immigrants, coupled with the proximity to fashionable districts such as SoHo and Tribeca, ensures that the area continues to provide many attractions to occupy tourists of all ages.
The streets of Chinatown range from broad avenues to narrow alleyways, all invariably packed with traffic or pedestrians. Due to its history and the makeup of its population, it is an area of immense cultural interest. As well as that, you will find that prices here tend to be noticeably cheaper than the rest of Manhattan's tourist hotspots.
What to do in Chinatown?
One of the major attractions of Chinatown is the shopping. Street-side stalls peddle sunglasses, designer handbags, jewellery, and perfume at discount prices. Anyone looking for authenticity may want to look somewhere else, but for those happy to snag a great looking knock-off at a fraction of the price of the real thing, the street stalls are ideal. Don't be afraid to haggle either. Many of the stalls sell identical products and vendors will almost always offer you a better deal if you push them hard enough in order to ensure you don't go elsewhere.
If you're in the mood to delve deeper into the history of Chinatown, check out The Museum of Chinese in America (MoCA). Located at 70 Mulberry Street, in an old school building, the museum combines fascinating exhibits with a collection of documents and artefacts charting the development of the local community.
Alternatively, if you simply want to relax, you may want to seek out one of the many genuine Chinese massage parlours. They can be found all over Chinatown and are extremely reasonably priced.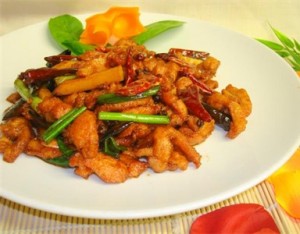 Good restaurants worth visiting
If you're into dim sum and Chinese food, this is the neighborhood for you. Prices are very affordable and there is plenty of choice. Here are a few to consider:
Sheng Wang – Although widely regarded as the best place to get hand-pulled noodles in Chinatown, Sheng Wang's speciality makes use of a rarer variety – peel noodles. Made using a penknife, they are served stir-fried with a scrambled egg and baby bok choy. Found at 27 Eldridge Street.
Grand Sichuan – Now a successful chain of restaurants, this is the original and, many believe, the best of the lot. The sour beans and minced pork is the pick of the menu and definitely one for those who like their food spicy. Found at 125 Canal Street.
East Corner Wonton – An old-style Cantonese café which is famous for its breakfast congee. Other specialities include the wonton egg noodle soup, which comes highly recommended. Found at 70 E. Broadway.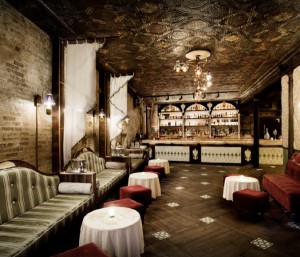 Bars and nightlife in Chinatown
Chinatown may not be as well-known for nightlife and live music as some of its neighbouring districts but it contains some absolutely fantastic places to spend your evening.
Fontana's Bar – A two floor bar which boasts a pleasingly relaxed atmosphere and extremely friendly staff. Large dance floors, pool tables, and a basement room which often features live bands ensure that this bar has something for everyone. 105 Eldridge Street.
Good World Bar & Grill – Housed in a former barber shop, this bar is renowned for its trendy clientele and its DJ nights. Ideal for those who want to mingle with New York's hip, mid-twenties crowd. 3 Orchard Street.
Apothèke – Macabre history fused with a creative theme. Located on one of the most murderous alleys in New York's history and housed in a former opium den, Apothèke features an apothecary based theme, complete with white lab coat wearing bartenders serving 'prescriptions.' Very interesting and well worth a visit. 9 Doyers Street.
Shopping to consider
Anything Chinese, from Lychees to Gingseng. Sunglasses, cheap watches and handbags are also popular in this district of Manhattan.
Be warned: Things to keep in mind
Although violent crime tends to be rare in Chinatown, the crowded streets and hordes of tourists provide opportunities for pickpockets. Make sure to keep your valuables safe and keep any bags or purses you may be carrying within your grasp at all times. Chinatown has many fish markets and they produce a fairly unpleasant smell. Although many say it adds to the ambience of the area, the smell can be quite strong, especially during the summer months, and is something to be prepared for.
What's nearby
New York's Chinatown borders a few other interesting neighborhoods worth visiting, such as Little Italy and Lower East Side. If you're up for a little walk, try Nolita, which is not all too far away.
Member Comments

Be the first to comment!

Leave a Reply

Your email address will not be published. Required fields are marked *
New York Shopping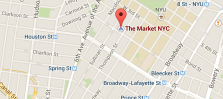 If you have tried all the major designer shops, outlets and department stores we have another recommendation from a young fashion designer. Next time you visit NYC, go to trendy Greenwich Village at 159 Bleecker Street. Here you find one …
More about New York shopping
New York Restaurants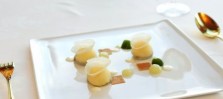 Photo credit: Lisa Davis Foddie website The Daily Meal has released their annual list of U.S best rated restaurants. Perhaps to little surprise, NY has more top rated dining options than the 5 second biggest cities in America combined. Are …
More about New York restaurants
New York Hotels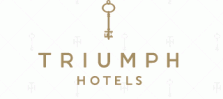 Six family owned hotels in New York city have come together to form a new brand, Triumph Hotels. No, the new hotel chain got nothing to do with Donald Trump and as you can see the spelling is quite different. …
More about New York hotels