A personal review of the Sex And The City tour in New York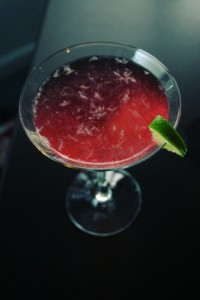 Sex and the City: The New York Tour
A Review by Nathalie Donaghy
Never before had I seen a grown woman wail in excitement as she waved her new Rampant Rabbit vibrator in the air. It was a frightening moment but also a surreal one. We had just visited The Pleasure Chest, the exact sex shop Miranda and Charlotte ventured in the episode "The Turtle and the Hare." This was the first stop of many, as dozens of women (and one or two men, mind you) traveled up and down Manhattan island to experience a glimpse of the magic conveyed by the Sex and the City television series.
The adventure started in front of the Plaza Hotel, an appropriate place to start since this was where Carrie saw Mr. Big with his new bride Natasha. As you hop from place to place you are never bored as the bus is equipped with several television screens to refresh your memory of those memorable moments you are about to indulge. Another stop was in the West Village. You are treated to Magnolia Bakery cupcakes and allowed to do some light shopping. Adjacent to the bakery on Bleecker Street is the cosmetics boutique fresh. This was the company that supplied all the makeup and supplies to the cast of SATC.
Another memorable stop is the trip to O'Nieal's Grand Street. O'Nieal's was the very bar used in the episode "Ghost Town" where Aiden and Steve partner together and open their own bar called Scout. Oh, did I mention you can also buy delicious discounted cosmopolitans?
Another personal highlight for me was the drive by a little shop called Patricia Field. This little gem doesn't look like much from the outside, but this is the very shop that made the famous gold 'Carrie' necklace. I definitely walked over forty blocks to order a customized necklace for myself; I still wear it to this day.
This is truly a one of a kind tour; I got my television fix, did some light shopping on Bleecker Street, satisfied my sweet tooth with cupcakes from Magnolia and sipped on a Cosmo, true Sex and the City style. You might even say I felt like one of the girls for a couple of hours.
Conclusion
I would highly recommend this tour to anyone, whether it be for an extreme SATC fan to a casual one; I would even recommend it to local New Yorkers as there is a little something for everyone to learn about the Big Apple!
›› Read more about the SATC tour itself here
›› Book your tickets for the Sex and the City tour in New York here
New York Shopping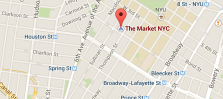 If you have tried all the major designer shops, outlets and department stores we have another recommendation from a young fashion designer. Next time you visit NYC, go to trendy Greenwich Village at 159 Bleecker Street. Here you find one …
More about New York shopping
New York Restaurants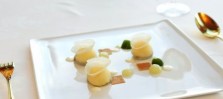 Photo credit: Lisa Davis Foddie website The Daily Meal has released their annual list of U.S best rated restaurants. Perhaps to little surprise, NY has more top rated dining options than the 5 second biggest cities in America combined. Are …
More about New York restaurants
New York Hotels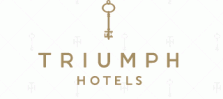 Six family owned hotels in New York city have come together to form a new brand, Triumph Hotels. No, the new hotel chain got nothing to do with Donald Trump and as you can see the spelling is quite different. …
More about New York hotels