Midtown Manhattan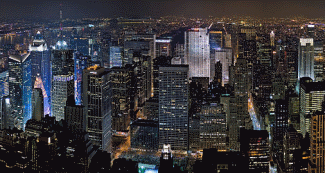 • Borders: 59th Street (north), Lower Manhattan (south), Hudson River (west) and East River (east).
• Inhabitants: 20,000 people, not very residential.
• Price level: High.
• Top Attractions: The Empire State Building, Rockefeller Center, Times Square and Broadway.
• Shopping tips: Expensive jewelry, designer clothes for both men and women.
• Popular subway: Columbus Circle. Also home to Grand Central Station, the largest train station in the world by number of platforms.
What's Midtown like?
The area is home to those who earn a high salary, referred to as 'power-singles'; these are professionals who work in the area, particularly in the financial section, and hold advanced degrees. Due to the popularity of the area, it's usually brimming with life, day or night, and features a multitude of upper-class bars and cafes.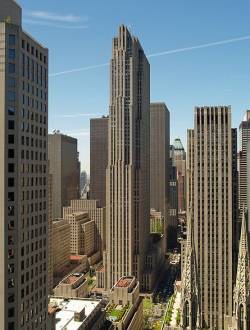 What to do?
As a strong hub for tourism, the area features much to do and see, such as the Rockefeller Centre which includes NBC studios, a variety of places to eat, the ice rink (around Christmas), and many other shops. Shopping is a must, and with the addition of Fifth Avenue, there is really no excuse not to visit. Featured elsewhere is the Museum Of Modern Art which is ideal for those that will appreciate one of the greatest collections of art in the world. Enjoying the district's fine architecture is a great way to spend your day as well, with the already-mentioned Empire State Building, the serenely-designed Chrysler Building, as well as the free-entry New York Public Library. Additionally, the Broadway Theatre district is situated in this part of Manhattan and is where tourists are able to enjoy one of the many much-acclaimed productions that go on here. Some of the more famous productions include 'The Lion King' at the Minskoff Theatre, and 'Wicked', at the Gershwin Theatre.
References in Pop-Culture
Any movie set in New York will feature some form of Midtown-Manhattan due to its familiarity with people worldwide. The Empire State Building is frequented by movie directors for its grandiose appearance and epic setting and is referenced in famous movies such as 'King King', 'The Avengers' and 'Independence Day'.

Places To Eat in Midtown Manhattan
Due to its high quality of living and high income, the area features many upper-class restaurants serving some of the finest food in the whole of America. 'Ai Fiori' is one of the best establishments in the entire city, featuring delicious meals worth the soaring prices. Try their desserts, well worth the wait. Elsewhere, 'Margon' offers a slightly more reasonable price and a family-friendly menu whilst meat-lovers can enjoy archaic vendors such as 'Keens Steakhouse'. Other popular locations include 'The Hard Rock Cafe', a well-known restaurant chain which offers a generic menu and is always popular with both the locals and those from out of town.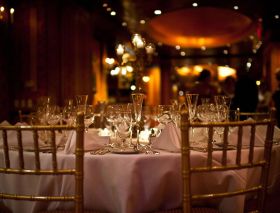 Bars and nightclubs
Above the Roosevelt Hotel is the Mad46 Lounge, a trendy and relaxed bar that includes a specialty cocktail menu and promises to satisfy every appetite. The Russian Tea Room, also a restaurant and party venue, is a prestigious little establishment that has been visited by some of the biggest names on the planet and, if you can afford the prices, is well worth a visit. There are no shortages of bars in this district and there will be little issue in finding one that caters to any specific needs you may have and is thoroughly affordable.
Be prepared
The area is incredibly popular and features some 700,000 commuters every day. Traffic is going to be a nightmare whatever the occasion and if you're planning on getting somewhere, by feet or subway is your best option; traffic can cause a lot of pollution in the air as well. Crowds are likely to form and if you wish to visit any popular areas such as Times Square, the Empire State Building or Rockefeller Centre, there will be waiting times and you'll have to ensure you're keeping a close eye on your possessions. At night, the city doesn't sleep and there will be a lot of noise and light.
Avoid
The area, due to its populous business, is very safe to walk around, even during the night. Many would suggest it as a good idea to avoid certain parts of Central Park during night as many of the homeless population of New York set up there to sleep.
What's nearby? Try Upper East Side while you're in Midtown or Uptown Manhattan, or go to Meatpacking district or NoLita if you're in Midtown South.
Member Comments

Be the first to comment!

Leave a Reply

Your email address will not be published. Required fields are marked *
New York Shopping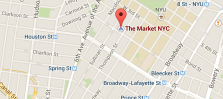 If you have tried all the major designer shops, outlets and department stores we have another recommendation from a young fashion designer. Next time you visit NYC, go to trendy Greenwich Village at 159 Bleecker Street. Here you find one …
More about New York shopping
New York Restaurants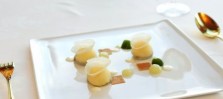 Photo credit: Lisa Davis Foddie website The Daily Meal has released their annual list of U.S best rated restaurants. Perhaps to little surprise, NY has more top rated dining options than the 5 second biggest cities in America combined. Are …
More about New York restaurants
New York Hotels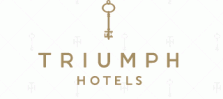 Six family owned hotels in New York city have come together to form a new brand, Triumph Hotels. No, the new hotel chain got nothing to do with Donald Trump and as you can see the spelling is quite different. …
More about New York hotels