Unique Restaurants & Dining Experience in NYC
Looking for a unique dining experience? Here are a few restaurant options in New York City to consider:
Chic
With its chic yellow and grey décor and Mediterranean cuisine, Boulud Sud at 20 W 64th Street on the Upper West Side is the perfect spot for dinner, before catching an evening performance at the nearby Lincoln Center. The fixed price, pre-theatre, 3 course meal served daily between 5:00pm and 7:00pm with the exception of Sunday focuses on seafood, grilled lamb and fresh vegetables and is good value for tourists at $60 US.
Gourmet
New York has many gourmet restaurants. Nerai on East 54th provides a new and sophisticated approach to traditional Greek food. The chefs specialize in seafood, which is flown in daily from all corners of the globe. Try New Zealand pink snapper or Maine lobster in one of Nerai's two elegant dining rooms.
Small Bites
At 284 3rd Avenue, you can find Vitis La Vineria, a small but classy wine bar with an extensive menu of small plates of locally sourced food. Or visit Anfora http://www.anforanyc.com to share a plate of assorted cheeses, meats, salads or crostini. Enjoy with an on tap beer or a glass of wine.
Typical American Food
For a unique experience, try a tasting meal at the Tenement Museum in the Lower East Side. Enjoy the traditional foods brought to New York by a variety of immigrant groups, and understand how these traditional foods have influenced and become a part of today's American cuisine. This tasting tour is available on Thursday evenings from 6:00pm to 8:00pm.
If you want to try out any of these unique eating places, it's best to make an online reservation before leaving home. Popular spots are usually busy. Or drop by Vitis La Vineria, which only takes reservations for large groups.
New York Shopping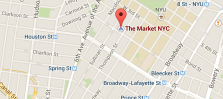 If you have tried all the major designer shops, outlets and department stores we have another recommendation from a young fashion designer. Next time you visit NYC, go to trendy Greenwich Village at 159 Bleecker Street. Here you find one …
More about New York shopping
New York Restaurants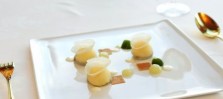 Photo credit: Lisa Davis Foddie website The Daily Meal has released their annual list of U.S best rated restaurants. Perhaps to little surprise, NY has more top rated dining options than the 5 second biggest cities in America combined. Are …
More about New York restaurants
New York Hotels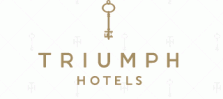 Six family owned hotels in New York city have come together to form a new brand, Triumph Hotels. No, the new hotel chain got nothing to do with Donald Trump and as you can see the spelling is quite different. …
More about New York hotels