Rooftop Nightclubs, Bars and Lounges in NY
New York's rooftop bars and clubs offer something for everyone. Salon de Ning Rooftop is pure 1930s Shanghai style; the cocktail lounge in this five star venue is the real deal. There is an amazing view of Fifth Avenue, 25 stories below, well made cocktails and friendly service, but at these prices you would not expect anything less.
At 230 Fifth one thing you can be sure of is a fantastic view of the Empire State building which is what most people come here for; unfortunately the management know this so food, drinks and service can be very patchy. Ordering a bottle can speed up your entry or find you a table. Instead of feeling one in a million, you are just one of a thousand.
At plunge Rooftop Bar & Lounge at Hotel Gansevoort you can expect to find more locals than hotel guests, which is always a positive sign. The views are as good as the atmosphere, a great rooftop nightclub.
Upstairs at the Kimberly has three indoor/outdoor spaces with a top of the world view of New York and the Chrysler building, the ideal nightclub to chill with a few friends and cocktails.
The Empire Hotel Rooftop provides a great view but expect to get hit in the wallet for average drinks and off hand service. Best to arrive when it is quiet, savour a beer as you enjoy the sights, and then head on somewhere else to party.
Brass Monkey, is a bit less formal than some of its New York neighbours but still a lovely spot to watch the sun go down over the Hudson River while enjoying traditional Irish fare and decent draft Guinness at the bar. Dance the night away on the top deck or in the dark and steamy rooms.
New York Shopping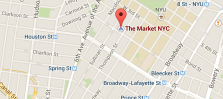 If you have tried all the major designer shops, outlets and department stores we have another recommendation from a young fashion designer. Next time you visit NYC, go to trendy Greenwich Village at 159 Bleecker Street. Here you find one …
More about New York shopping
New York Restaurants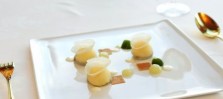 Photo credit: Lisa Davis Foddie website The Daily Meal has released their annual list of U.S best rated restaurants. Perhaps to little surprise, NY has more top rated dining options than the 5 second biggest cities in America combined. Are …
More about New York restaurants
New York Hotels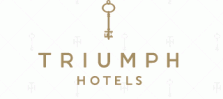 Six family owned hotels in New York city have come together to form a new brand, Triumph Hotels. No, the new hotel chain got nothing to do with Donald Trump and as you can see the spelling is quite different. …
More about New York hotels