ZEPHYR Statue of Liberty Express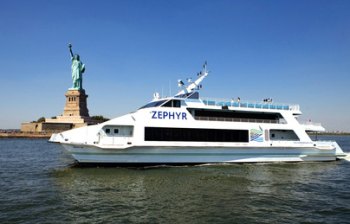 Check availabilty and buy tickets online

Zephyr Statue of Liberty Express is a very comfortable and luxurious yacht, departing from South Street Seaport in Manhattan. The 60 minute cruise tour's main attraction is the Statue of Liberty, with amazing views of top sights in New York on the journey. Sit on the sundeck and have a drink or stay inside the cabin if you prefer.
Facts & curiosities
Departure: Pier 16, South Street Seaport in Downtown Manhattan.
Length: Approx. 60 minutes.
Price: £18 ($US 28) for adults, £10.95 ($US 17) for kids (3-12 years) and £15.45 ($US 24) for seniors.
Schedule: 10:00am, 11:15am, 12:30pm, 2:00pm, 3:30pm, 5:00pm (April – Dec)
Season: Year round, but less departures during winter.
Official website: http://www.nywatertaxi.com
Advantage
+Very comfortable, small luxury yacht.
+Climate control
+Spectacular views of New York skyline and Statue of Liberty of course.
+Indoor and outdoor seating.
Disadvantage
-Smaller yacht than many of the alternative Statue of Liberty cruises.
-"Only" 60 minutes, while many other NY cruises are longer.
Attractions with Zephyr Statue of Liberty Express
-Empire State Building
-Chrysler Building
-Brooklyn Bridge
Alternatives NY cruises?
There are many other alternative cruises from New York. More info about alternative cruises within short.
New York Shopping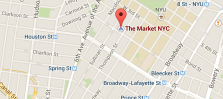 If you have tried all the major designer shops, outlets and department stores we have another recommendation from a young fashion designer. Next time you visit NYC, go to trendy Greenwich Village at 159 Bleecker Street. Here you find one …
More about New York shopping
New York Restaurants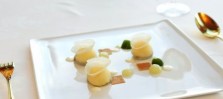 Photo credit: Lisa Davis Foddie website The Daily Meal has released their annual list of U.S best rated restaurants. Perhaps to little surprise, NY has more top rated dining options than the 5 second biggest cities in America combined. Are …
More about New York restaurants
New York Hotels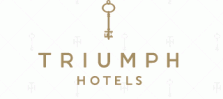 Six family owned hotels in New York city have come together to form a new brand, Triumph Hotels. No, the new hotel chain got nothing to do with Donald Trump and as you can see the spelling is quite different. …
More about New York hotels